"UFO" is the twenty fourth and final episode of Thunderbirds 2086, and twenty second produced overall. The episode first aired at an unspecified point after 1982.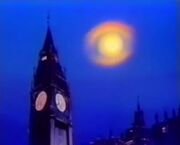 A humongous comet is on a direct collision course with Earth, and will wipe out the entire planet in less than twelve hours. The Thunderbirds must head into action and do everything they can to save their home one last time...
IRO Equipment Used
Edit
Thunderbird 10
Thunderbird 17
Final episode of Thunderbirds 2086.
Last Appearance: Dylan Beyda, Jesse Rigel, Gran Hanson, Kallan James, Johnathan Jordan Jr., and Warren Simpson.
This episode did not air in Japan.
The final scenes of UFO feature new animation, including background footage from Captain Scarlet and the Mysterons.
"Thunderbirds Are Out!"
Gran Hanson ends the series in classy style.
Anderson Stock Library
Edit
Foreign Name
Edit
Japanese: The U.F.O. Cannot Return (U.F.O.返すことができません)
Ad blocker interference detected!
Wikia is a free-to-use site that makes money from advertising. We have a modified experience for viewers using ad blockers

Wikia is not accessible if you've made further modifications. Remove the custom ad blocker rule(s) and the page will load as expected.