"Vault of Death (Century 21)" is a Stub.
You can help Thunderbirds Wiki by expanding it!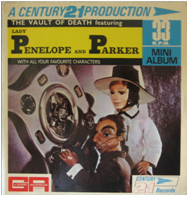 Vault of Death is an audio story, originally released in January 1967. Its full title is The Vault of Death, Featuring Lady Penelope and Parker. It was written by Len Cleal, based on an original episode by Dennis Spooner.
Transcript
Edit
Main article: Vault of Death (Century 21)/Transcript
Ad blocker interference detected!
Wikia is a free-to-use site that makes money from advertising. We have a modified experience for viewers using ad blockers

Wikia is not accessible if you've made further modifications. Remove the custom ad blocker rule(s) and the page will load as expected.