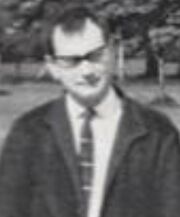 Arthur "Wag" Evans (February 1929 - ?) worked as an uncredited model-maker on Thunderbirds. For the series at least, he built the large-scale Thunderbird 2 and the puppet-sized FAB 1. For Thunderbird 6, he produced the puppet-sized Tiger Moth. He later worked on The Secret Service.
Evans gave invaluable help with research for 21st Century Visions, and was interviewed by Simon Archer for the Century 21 magazine. Some years later, quotes from Evans featured in What Made Thunderbirds Go! and Thunderbirds: The Vault.
It is unknown how he earned the nickname Wag.
Evans died between 1990 and 2007.
Ad blocker interference detected!
Wikia is a free-to-use site that makes money from advertising. We have a modified experience for viewers using ad blockers

Wikia is not accessible if you've made further modifications. Remove the custom ad blocker rule(s) and the page will load as expected.