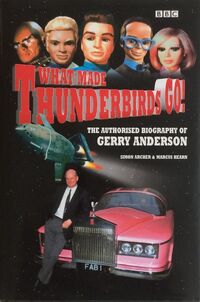 What Made Thunderbirds Go! is the second biography of Gerry Anderson. It was published in 2002.
While in the process of completing his manuscript for Anderson's first biography, Simon Archer tragically died following a car accident. As a result, Stan Nicholls completed the biography which was published in 1996, three years after Archer's death.
Five years later, a second biography was mooted with Anderson insisting that Archer's manuscript be used in the form of groundwork.
In addition to revising Archer's manuscript, with Anderson and his wife Mary helping to make it a pleasure, Marcus Hearn conducted extensive interviews with Anderson. Extracts from the aforementioned interviews feature in the book.
Additional Info
Edit
Author's (Hearn's) acknowledgments: grateful thanks to Samantha, his "beautiful doctor of space medicine". Thanks also to: Chris Bentley, Andrew Pixley for invaluable advice; Andrew Frampton, Adrian Rigelsford for the provision of useful research materials; Ben Dunn, John Glen, David Hanks, Sue Harman, Justin Richards, Jonathan Rigby, John Sinfield, April Warman for support; Ed Bishop, John Needham, Alan Pattillo for answering his queries; Canal Plus, Carlton International Media, Dave Finchett for permission to reproduce particular stills; Bob Bailey, Chris Drake, Martin Gainsford, Alan Howard, Randall Larson, Ralph Titterton, whose articles are quoted within the text. Special thanks due to Gerry and Mary Anderson for their generous hospitality, as well as helping to make Archer's revised manuscript a pleasure - a aim they had in common with Hearn.
Authors: Simon Archer, Marcus Hearn
Colour separations by: Radstock Reproductions Ltd, Midsomer Norton
Commissioning editor: Ben Dunn
Copyright: Marcus Hearn and the estate of Simon Archer 2002
Designer: Linda Blackmore
First published: 2002
ISBN: 0 563 53481 8
Jacket printed by: Lawrence-Allen, Weston-super-Mare
Printed and bound in: Great Britain by Butler & Tanner Ltd, Frome and London
Production controller: Kenneth McKay
Project editor: April Warman
Published by: BBC Worldwide Limited, 80 Wood Lane, London, W12 0TT
Reprinted: 2002
Retail price: £16.99
Set in: Sabin and Rockwell