"Who's Who" is Under Construction.
Please feel free to add anything that you think might improve this page.
"I am a name not a number now where have I heard that before"
— Ian Wingrove, 25 February 2017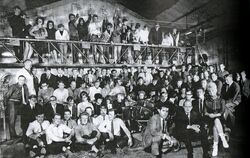 This is a "who's who" of the people who worked at the Stirling Road studio at the time of filming Thunderbirds. It was taken in 1965.
Production Team by Numbers
Edit
There are at least ninety-three people in the photograph, the following list contains the people that have been 'identified'.
Ad blocker interference detected!
Wikia is a free-to-use site that makes money from advertising. We have a modified experience for viewers using ad blockers

Wikia is not accessible if you've made further modifications. Remove the custom ad blocker rule(s) and the page will load as expected.